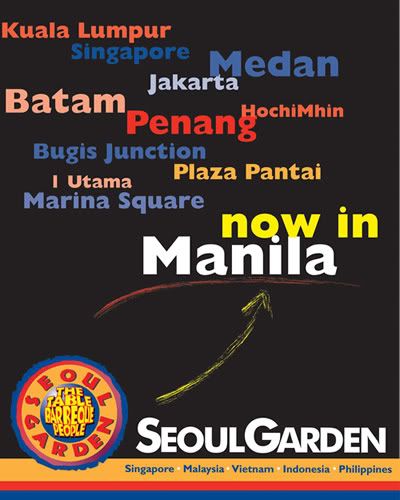 Seoul Garden at SM North Edsa Annex
Seoul Garden serves authentic Korean-styled BBQ buffet restaurant that offers a unique self serving dining experience. I've been to Tong Yang Hot pot several times but what makes Seoul Garden different from it is their 2 in 1 dining concept. A do-it-yourself BBQ buffet combined with a Hotpot dining experience.
There were lots of stuff to choose from chicken, beef, pork and sea-foods. Some of them were marinated to suit the taste of their customers. At the far end of the buffet was some rice based dishes that are a staple to the Filipino people. You can also choose which kind of dessert you would like. From fresh fruits, sweets and different flavors of ice cream.
By the way, we availed their eat-all-you-can promo and I would say that Seoul Garden is really a must try for any gatherings, celebrations and just like what we had, informal meetings with colleagues.
One thing that just made me say hmm... was their rest room. It was placed at the far end of the restaurant, in between the two buffet table and it was a common rest room (there were two urinals inside, one for men and the other for women) and you will be bumping into their food attendants who were coming to and from their main kitchen.
Anyway, over-all experience at Seoul Garden is A-okay! I even recommended it to my husband since he and his officemates are loyal Tong Yang customers.
You might even want to try this one out. Visit Seoul Garden
here!